BLOGS Planning a Summer Wedding: What to Know Beforehand
Planning a summer wedding is an exciting undertaking and offers couples a wonderful opportunity to celebrate their special day outdoors in beautiful weather. Before you get too far into the planning process, however, there are some key details of which you should be aware in order to create your perfect summer nuptials. From taking seasonal temperatures into account to properly allocating funds for expenses, making sure that everything falls perfectly into place requires careful consideration and preparation. By keeping these tips top of mind as you begin the journey of planning your own unique summer wedding, it will ensure that the big day goes according to plan so all you'll need to focus on is enjoying every second with those closest to you.
Consider the season when choosing your wedding venue
Choosing a wedding venue is a crucial aspect of planning your big day. One factor that often goes overlooked is the season in which you are getting married. Each season offers its own charm and unique beauty, which can greatly influence the overall ambiance of your wedding. For example, a winter wedding held in a cozy, intimate indoor venue can make for a romantic and intimate atmosphere. In contrast, a summer wedding held in an outdoor venue can provide a breezy and open-air ambiance. Additionally, the season can also impact practical considerations, such as the availability of flowers and the weather conditions. By taking the time to consider the season, you can choose a venue that perfectly complements your wedding vision.
Factors to think about when choosing a wedding date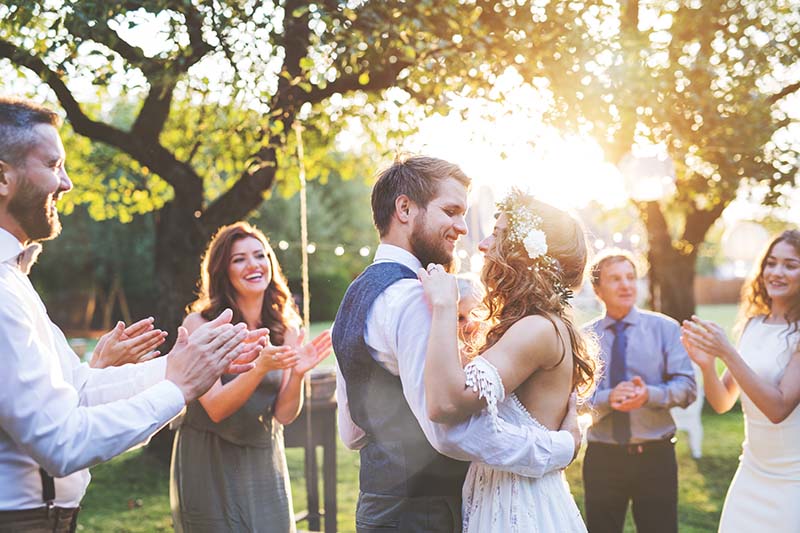 Picking a wedding date is a crucial decision that requires thoughtful consideration. There are several factors to weigh to ensure that you get the perfect date that works for both you and your partner.
One of the most crucial items to consider is your budget. You need to choose a date that aligns with your finances and ensures that you don't break the bank. The season should also play a significant role. If you want a highly romantic and picturesque wedding, a summer wedding might be your best bet. However, if you prefer cooler temperatures, you may opt for a fall or winter wedding.
Another aspect you might want to factor in is work schedules, guests' availability, and other personal plans. It's important to plan well in advance to ensure a smooth and hassle-free wedding day. When you take all these factors into consideration, you can confidently choose a summer wedding date that fits your vision and brings your dream wedding to life.
How to manage guests with different dietary needs
In today's world, managing guests with different dietary needs has become a common challenge for event planners and hosts. Fortunately, a few simple strategies can make the process much less stressful.
First and foremost, communication is key. It's important to ask guests ahead of time about any dietary restrictions or requirements they may have. This will allow you to plan your menu accordingly and offer options that suit everyone's needs. Additionally, it's always a good idea to consider offering a diverse range of dishes that accommodate different dietary preferences, such as vegan or gluten-free options. By being proactive and thoughtful, you can ensure that all of your guests feel welcomed and catered to at your event.
Strategies for selecting a floral arrangement that lasts
As you search for the perfect floral arrangement, it is important to consider strategies that will help your selection last for as long as possible. Start by choosing flowers that are in season, as they will generally be the freshest and most resilient. Keep in mind the environment where the arrangement will be displayed; if it will be exposed to direct sunlight or varying temperatures, opt for hardier blooms that can withstand those conditions.
Additionally, look for arrangements with greenery or fillers that will continue to contribute to the overall aesthetic as individual blooms fade. Finally, make sure to ask your florist for care instructions specific to your selected flowers so you can confidently maintain the arrangement for as long as possible. By taking these steps, you can ensure your floral selection enhances your space for days or even weeks to come.
Tips for picking the perfect wedding dress
Choosing the perfect wedding dress is one of the most important decisions that any bride-to-be can make. It's important to remember that this is your special day, and you want to feel comfortable and confident in your dress. Here are a few tips for picking the perfect wedding dress: First, choose a style that suits your body type. Second, set a budget before you start shopping. Third, don't forget about the details, like the fabric, color, and neckline. Finally, don't be afraid to try on a variety of dresses – you never know which one will be the perfect fit! With these tips in mind, you'll be well on your way to finding the dress of your dreams.
What you should know about summer weather and outdoor weddings
When planning an outdoor wedding during the summer months, it's important to consider the weather. While the warm sunshine and blue skies may seem like the perfect backdrop for your special day, it's important to remember that summer weather can be unpredictable. Thunderstorms, heat waves, and humidity can all be factors that affect your wedding day. It's important to discuss contingency plans with your wedding planner, such as tents or indoor options, in case of inclement weather. Additionally, it's important to consider the comfort of your guests, such as providing shade and plenty of water to stay hydrated. By being prepared for all types of summer weather, you can ensure a memorable and enjoyable wedding day for everyone involved.
Picking the perfect wedding venue, date and dress is a process that should be thoroughly thought out. Beyond just logistics, careful consideration should also be given to seasonal changes, food plans and weather conditions. Ultimately, we hope this blog helps give you a few ideas on how to create an unforgettable day with all the details taken care of. Don't forget to keep your wedding theme in mind for a one-of-a-kind experience. Just remember to enjoy this exciting journey throughout the planning phases of your big day! With some smart decision making and a little creativity, you'll have all the elements necessary to create magical memories that last forever.
Booking the perfect summer wedding with Everlasting Productions
If you're looking to take your summer wedding to the next level, you absolutely cannot forget about the wedding services! With outstanding DJing, MCing, and photography services, Everlasting Productions has become the premier full-service wedding event company across the tri-state area. With over a decade and a half of experience, the reviews speak for themselves!
To learn more about how we can make your summer wedding pop, please visit our website and book your experience today!