BLOGS 17 Genius Tips and Ideas for an Effortless Outdoor Party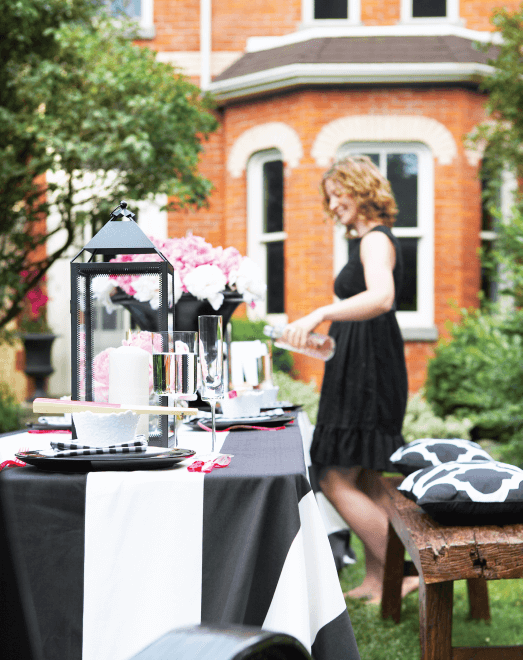 Source: RealSimple
For a truly stress-free outdoor party and outdoor entertaining experience, you want to keep the pests—and the guests—from buzzing in your ear. Here's how to create an oasis for a backyard party where the revelers are satiated and no one gets eaten alive. With any luck, you'll be able to check everything off the party planning checklist and have some fun, too.
The best kind of backyard party has sharp outdoor décor ideas and fun outdoor activities, sure, but it also has plenty of food, abundant drink, and a slew of functional furnishings, including plenty of seating and dependable outdoor lighting. Pulling all these outdoor party must-haves together may seem like an insurmountable challenge, but—most of the time—it only needs to happen once every spring or summer.
Consider the first few consistently warm weeks your sign to start prepping your outdoor space. Tackle everything from replacing bulbs for the outdoor lights to cleaning outdoor cushions in one big push, then prepare to sit back and enjoy your splendid outdoor party place. Once the heavy lift is done at the start of the season, all you'll need to do between soirees is a little refreshing; your outdoor space—whether it's a backyard, a terrace, or a courtyard—will stay in good shape all season long, barring any major summer storms.
As with anything, hosting superb backyard bashes gets easier over time. The first one may be a major challenge; by the end of the summer, you'll be able to pull together an outdoor party to celebrate the end of Little League, a graduation, a birthday, or whatever other toast-worthy event has just happened at the drop of a sun hat.
Whether you plan to host one backyard party or one hundred, this ultimate guide to outdoor parties will help you get there with minimal stress.