BLOGS 4 Ways to Brighten Up Your Backyard Party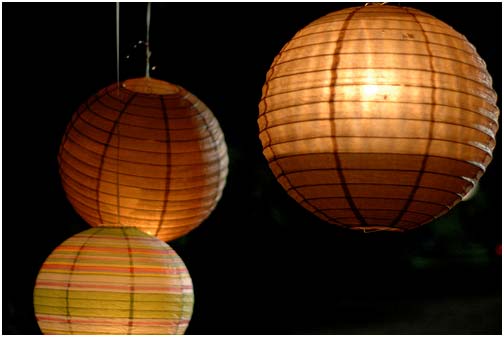 By Tre Pryor
Source: Louisville Homes Blog
Summer is fading fast, offering the promise of the very last of sunny days, warm nights, and plenty of outdoor events. Whether you're getting ready to hop in the pool or fire up the barbecue, you have endless options for festive gatherings. Light your backyard parties with a special type of glow by using creative outdoor lighting ideas for your party.
Light It With Lanterns
Paper lanterns are a simple option for outdoor lighting that can add a lot of color to your space. These are ideal for special events when you want to feature a themed color palette but aren't sure where it fits in an outdoor setting. String up paper lanterns in bold colors for a fiesta party to complement your piñata and taco bar, or use the bride's wedding colors for a backyard bridal shower brunch. Paper lanterns are versatile enough for any occasion — all you need are a few pillars, trees, or other supports from which to hang them.
Add Festive Flair With Strung Lights
Strung lights aren't only for the Christmas holiday. You can use strings of miniature lights to illuminate any event. White lights are a versatile choice that will work with any setting: String them around a gazebo to create romantic lighting, or wrap them around your balcony to set a seating area aglow.
Choose the right hue for single-color lights, and you can give your event a distinct ambiance all its own. With options like red and blue mini-lights from Christmas Lights Etc, you can host a festive Fourth of July event that will keep the neighbors talking for days. Multicolored lights are versatile enough for everything from a birthday party to a casual evening with friends.
Get Tropical With Tiki Torches
Tiki torches are a favorite for pool parties and luau-themed events. If you're looking to add some tropical flair to your yard, you can't go wrong with this lighting option. The best feature of tiki torches is their ability to stand alone. Unlike other lighting options, these don't need supports for artful stringing or table space for careful arrangements. Simply plant your tiki torches in the ground where they're out of the way of traffic to give your space a fun, beachy ambiance.
Light the Path for Nighttime Revelries
Pathway lights are as functional as they are decorative. Are you tired of guests trampling flowerbeds or marring certain parts of your landscaping? Offer a clear walkway to the party area by using path lights to illuminate the way. Choose a neutral hue like warm white, and you can leave these lights up all summer, switching them on for every evening event. Stargazing parties, sleepovers, and other after-dark events are easier to find and safer to navigate with this lighting solution.
The right lights can transform your party from a lackluster event to a truly unforgettable gathering. From a wild flickering flame to a soothing romantic glow, you have options for every type of ambiance. Make sure the fun can last long into the night with smart summer lighting solutions for every type of party.