BLOGS 51 of the Best Theme Party Ideas Actual Party Planners Could Think Of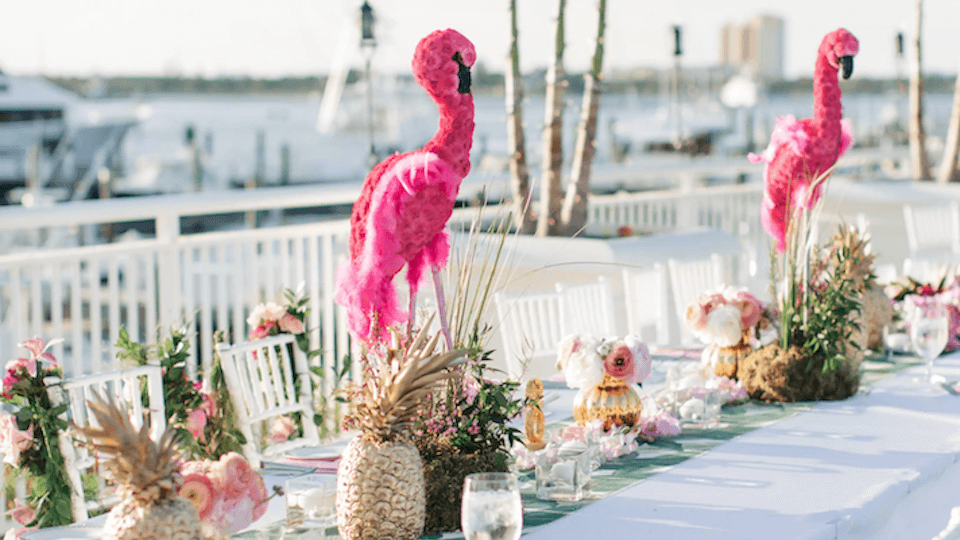 By Maggie Griswold
Source: Style Caster
There's no question that a good theme can take a party from average to wildly creative, fun and jaw-dropping (if you're handy with decorations). One of the hardest parts about planning a party, though, is coming up with the perfect theme in the first place—which is why we turned to the experts. StyleCaster asked party planners to give us their best theme party ideas, so all you have to focus on is actually throwing the perfect bash.
From tips on how to turn classic theme parties (like James Bond) into truly memorable displays, to some seriously creative theme ideas (like a 'Come as your favorite SNL character' theme), you're sure to find the most epic theme for your next party. Below are 51 different theme party ideas guaranteed to make any soiree the talk of the town.
1. Pop Art
Party Planner: Carrie Baker of Carrie Baker Events
"I did a Pop Art themed baby shower and we used tons of Campbell's soup cans for flowers," says Baker.
2. Flamingo Luau
Party Planner: The Bash
The Bash recommends using a fire dancer to make your flamingo luau extra special.
3. Arabian Nights
Party Planner: Kristie Linda Meluso of KMA Events
4. 1980s
Party Planner: Lynne Goldberg
To make the theme extra fun, Goldberg suggests: "Send an invitation that includes a pair of shoulder pads with the invitation and tell them they must wear them to the party."
5. Burning Man Meets Coachella
Party Planner: Brian Worley of B. Worley Productions
"It has a very carefree, relaxed decor vibe, and with these two events getting so much coverage these days through social media and just how creative they are in terms of visuals, it can really be a fun event," says Worley.
6. Barbie's Dream House
Party Planner: Kristie Linda Meluso of KMA Events
7. Superheroes
Party Planner: Lucy Harris of Hello Baby Bump
Harris suggests: "Use theme songs of villains and heroes as music. Food could be cookies in the shapes of insignias, the colors that are common with superheroes, etc."
8. Couture Balloons
Party Planner: Richard O'Malley of The How Behind the WOW!
"We have all see the clown make a balloon animal and helium filled orbs drop from the ceiling,  but here I am talking about balloons as couture fashion. Make your arrival in one of these and Instagram just might crash," says O'Malley
9. Bubbles in Boca (Boca Retirement Theme)
Party Planner: Molly Sinsheimer
Have everyone dress up as individuals who retired in Boca. According to one of the attendees of this party, "People dyed their hair silver, bought fake dentures, wore bright colors, glasses on chains, etc. The decor had homemade palm trees, beach chairs, beach umbrellas, pool floats…with a creative spin on AARP advertisements posted on the walls…" Sinsheimer even filled empty pill bottles with tequila shots and told everyone to "take their meds."
10. Game of Thrones
Party Planner: Piera Pizzo, Evite Party Specialist
"Channel your inner Hot Pie and whip up some meat pies for your guests," suggests Pizo.
11. Car Theme
Party Planner: Carrie Baker of Carrie Baker Events
"I once did a 'car' themed event. Only it wasn't for kids! It was a gentleman's 40th birthday. We held the event at a car museum and had access to a secret vault of vintage collection cars for the cocktail hour followed by a seated dinner in the museums Porsche exhibit. It was such a great conversation starter for guests. We kept with the theme from beginning to end – from the invites to the limited edition hot wheel cars that I did for place cards!"
12. Masks & Mimosas
Party Planner: Lori Hulshof of SPL
"The underlying theme is 'Pamper Yourself'," says Hulshof. "And the ladies who attend are always in a good mood and ready to laugh. The best part about a pampering theme is that you don't need to reserve a formal location; someone's home will work just fine."
13. Tropical Party
Party Planner: The Bash
The Bash suggests using hula dancers to add a wow-factor to your tropical theme party.
14. James Bond
Party Planner: Andrea Correale of Elegant Affairs
"We had a client who celebrated his 60th Birthday as James Bond. His entrance to his blow-out birthday bash included sliding down a 40ft steel fireman's pole, landed sitting down and was served a perfectly made dirty martini by a masked waiter," says Correale.
15. Silver Soiree
Party Planner: Lynne Goldberg
16. Glow in the Dark
Party Planner: Brian Worley of B. Worley Productions
17. Basic B*tch
Party Planner: Kristie Linda Meluso of KMA Events
Meluso suggests: "Incorporate all the basic things from Instagram that everyone secretly loves—i.e. brunching (Supply everyone favorite brunch bites and bottomless mimosas, pizza, froyo, photo booth, a designated hashtag for the event…"
18. Seven Deadly Sins
Party Planner: Kristie Linda Meluso of KMA Events