BLOGS 7 Tips on How to plan the Corporate Christmas Party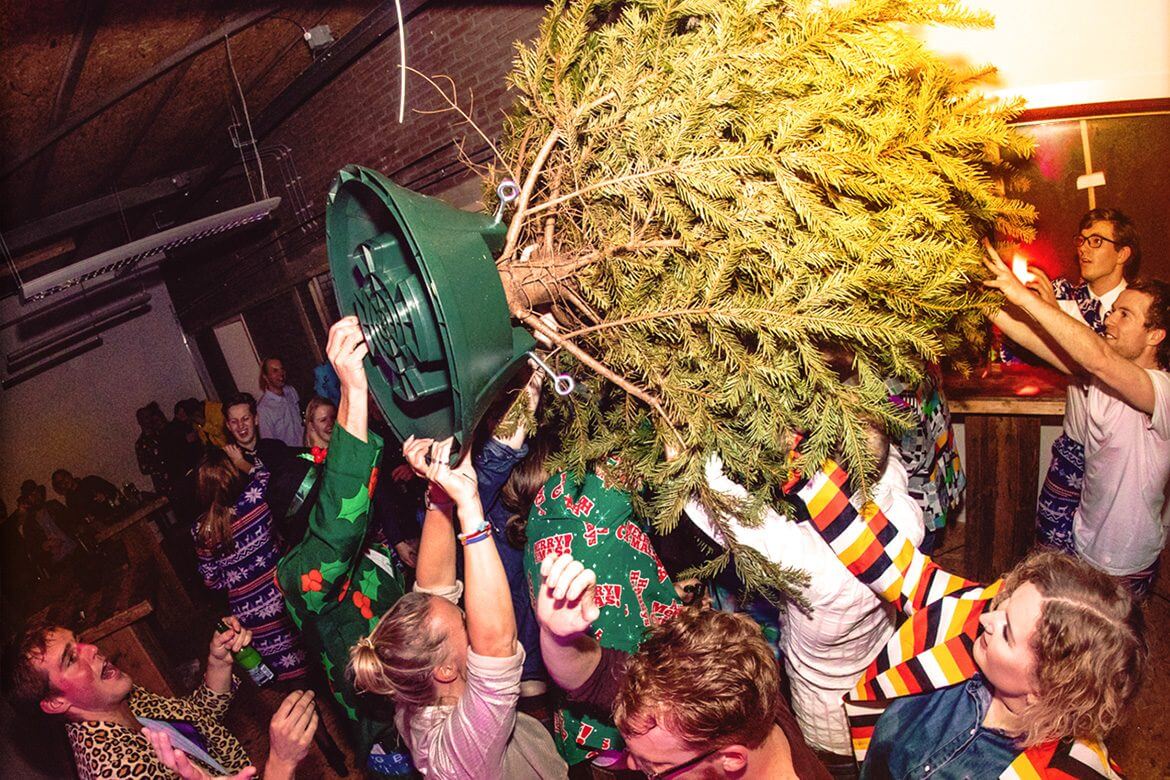 Source: Opposuits
Christmas parties: we all love it. It's a great way to get colleagues together to celebrate the holiday season. Are you planning the corporate Christmas party, and do you need some inspiration? We've got you covered. Our office manager, Marga (who we like to call Marge in Charge), organizes the OppoSuits' Christmas party every year and helps you out by giving her tips on throwing the most awesome Christmas party out there. This will help you to be stress-free and to make it a night to remember.
1. Christmas party invitations
It all starts with a loud and clear save the date. Be on time! A few weeks later you can send an official invitation in addition. Make sure all information is included. When (date and time), where and why. Also, be creative in the invitation. Preferably let a Graphic Designer make the invitation. Great design and texts will definitely help to get everyone excited for the party. Oh and a pro-tip for planning: don't plan your Christmas party too close to Christmas. Many of your guests will be leaving town to visit their family.  
2. Christmas party preparations
A party falls or stands with good preparations. Don't hesitate to ask your colleagues to help you, for example with decorating or moving stuff so that you create a cool room. For instance, you could make a karaoke bar or a dance floor. Of course, you can't organize it all on your own and that's okay.  Make sure to ask your co-workers for help weeks before the party (and choose the colleagues you can count on).
3. Christmas party food & beverages
Of course, there's no party without a good bar and buffet. Don't think it's easy to do it yourself. First of all, you probably can't, but second, you don't want to spend all night arranging catering. You need gossip for the next day at work too, right?
So, contact your local catering service and let them do the job. They know what to do and it will make you feel way less stressed out. Make sure to order enough food; especially when everybody will drink alcohol. And of course, order enough beer, wine (and optional: shots).  
4. Christmas party music
Start playing Christmas music weeks before the Christmas party to get into the Christmas spirit. It's just the beginning of an unforgettable party. Of course, during the party, a good DJ is a must. There's always a friend, colleague or family member who likes to play the music during the Christmas party. If you have a low budget, you could think of a barter deal; what do you have to offer in exchange for DJing at your party?  
5. Special Christmas party act
Priority number 1: take care of a really good, unforgettable act nobody expects. Is there, for example, a local artist who's popular within the company? Book this artist and everybody will be completely starstruck and excited about it. This really helps to get the party started. This was a big hit at the OppoSuits Christmas party, so I really recommend doing this. 
6. Christmas party photos 
Don't forget to take photos and videos. You won't recognize your colleagues after a few hours of drinking. Make proof and never delete these pictures again. You will need them once.. ever… soon… Spread some 'throw-away cameras' and the most memorable photos will be made. Of course, you could also hire a professional photographer to take some fun photos of the Christmas party. In that case you're sure to have some good ones.  
7. Christmas party outfits
Think about a fun dress code everybody is confident with. What about Casual Chic, Black Tie or Cocktail? Of if you're working for an informal company, Ugly Christmas Sweater could be a nice theme as well. If you choose this last one, you could suit up your entire team in our Christmas outfits for that ultimate Christmas vibe. Fun guaranteed.   
And last not but least… If you're in charge, make sure to be well prepared and leave nothing to chance. Don't trust anyone. People won't be on time and things will go wrong during the Christmas party. But the best thing is to accept this and to stay relaxed. Just make the party a good one, and enjoy the party yourself too. Good luck; you got this!