BLOGS Establishing a Song Selection with Your DJ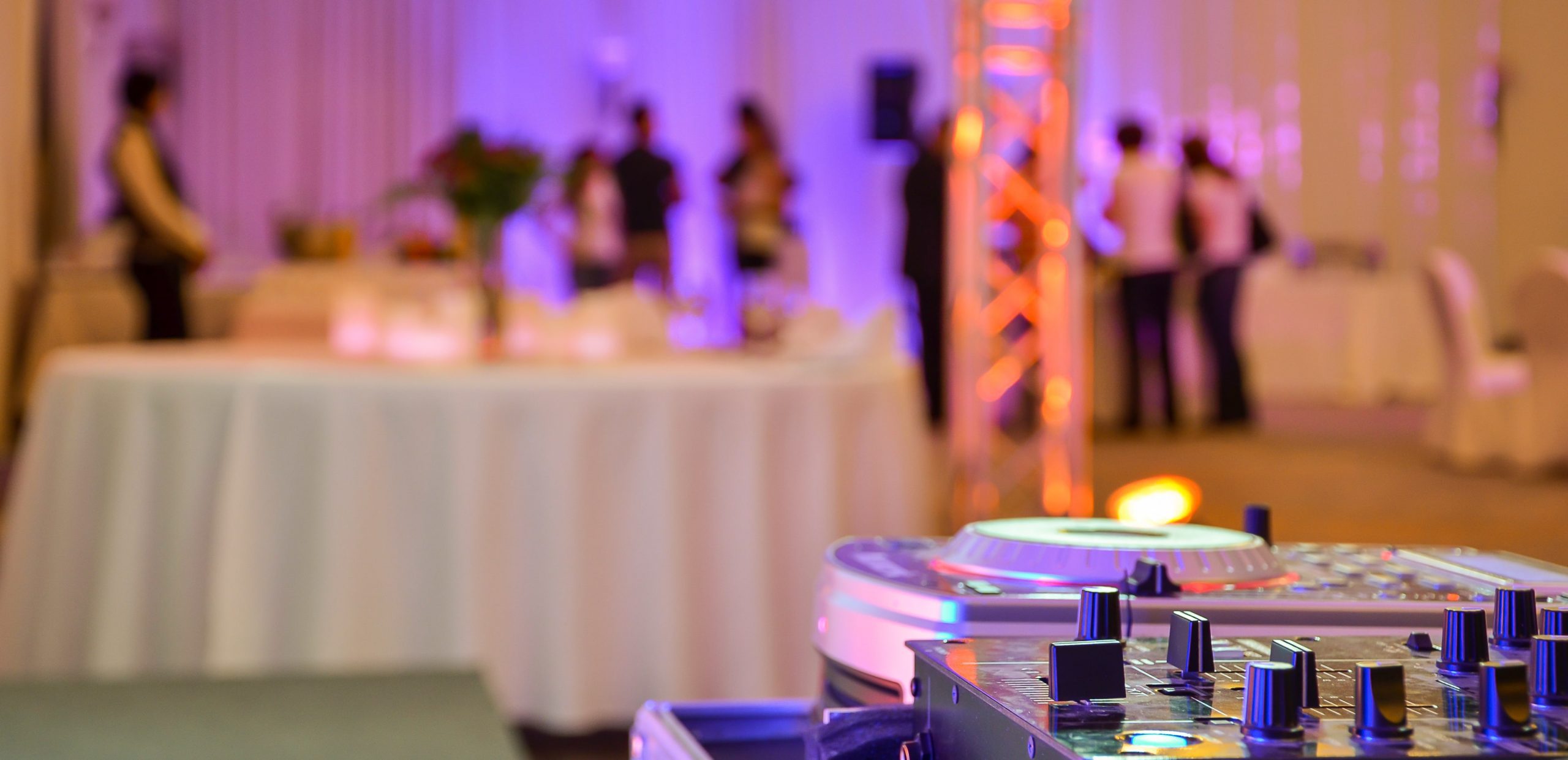 Curating a soundtrack for your special event can be challenging. Whether it's a wedding, birthday party, or graduation, establishing a song selection with your DJ is crucial to ensuring a successful event.
Catering to everyone — from the young child to the grandparents in attendance — and maintaining the room's energy comes down to a carefully-chosen song selection. Here are some tips you should consider in creating that perfect soundtrack!
Set a Meeting with Your DJ
Before your special event, it's best practice to schedule a consultation with your DJ to go over the song selection. There are plenty of fine details to be ironed out to host a successful event, so holding a meeting with your DJ can help remediate any issues beforehand.
Common issues that can spring up during an event include an energy lull, not maintaining the interest of the crowd, and haphazardly playing songs on the fly. In meeting with your DJ before the event, you should establish a song selection that will avoid these pitfalls. Preparation is key!
You should also let the DJ know what kind of songs you want to hear, as well as songs you don't want to hear. A "Do Not Play" list goes a long way!
You'll also want to highlight the range of demographics of your party's attendance. Consider factors like age, race, ethnicity, and gender when establishing a song selection. What gets the 5-year-old in attendance pumped up will most likely differ from what'll get the 70-year-old grandfather excited. Try to find a sonic middle ground that'll bridge the gap for all those in attendance!
Establish the Tone of the Event
Once you have the demographics sorted, the next step in curating the perfect song selection is establishing the tone of the event. What exactly is the occasion? Is it a birthday party for a 10-year-old? A party for a college graduate? A quinceanera? Informing the DJ of this will allow the performer to make the most informed decisions regarding the song selection.
As a DJ, you should then consider song qualities that'll keep the crowd dynamics leveled throughout the night. Throw in a healthy mix of upbeat songs to have the room jumping. Keep the slow jams for when the audience begins to tire out (you'll notice this when the dance floor begins clearing out and people start sitting down). Mid-tempo songs are perfect to segue from high-energy to low-energy music, and vice versa.
Another element to consider is the timeframe of your song selection's release. Are you catering to millennials? Throwing in some iconic throwback songs from the 1990s and 2000s, for example, can ensure a big reaction from the audience. On the other hand, if it's a party of Gen Z'ers, you can throw on some 2000s and 2010s hits. And who can forget about the TikTok crowd?!
Set Boundaries with Your DJ
Lastly, one of the biggest steps you can take in establishing a song selection is setting boundaries with your DJ. This mainly is a timing issue, which can partially be circumvented by choosing songs that are of appropriate length. DJs should also be hypervigilant of their allotted amount of time and should coordinate with the event hosts and venue to remain within their appropriate timeframe. 
On top of that, if your event calls for multiple DJs, you should make it very clear about set times and what songs will be played by other DJs. If there's an opening act, that opener should avoid playing the top hits that should be reserved for the headliner. Instead, openers should rely on throwbacks and mid-tempo tracks while ultimately setting the tone for the night.
Establishing a Song Selection with Everlasting Productions
Everlasting Productions is a DJ service based out of Melville, New York. With over a decade of experience and a team of fully dedicated professionals, Everlasting Productions is sure to bring you a memorable experience — curated song selection and beyond!
We even offer services such as a photo booth and giveaways alongside dedicated photography and videography — thus making your party last a lifetime! One satisfied customer said of Everlasting Productions, "They did music for my ceremony, cocktail hour and reception. My family and friends were on the dance floor the whole time and only had amazing things to say."
To learn more about how Everlasting Productions can bring your party to life, visit our website and contact us today to learn more!