BLOGS How to Plan & Host a Successful Summer Barbecue Party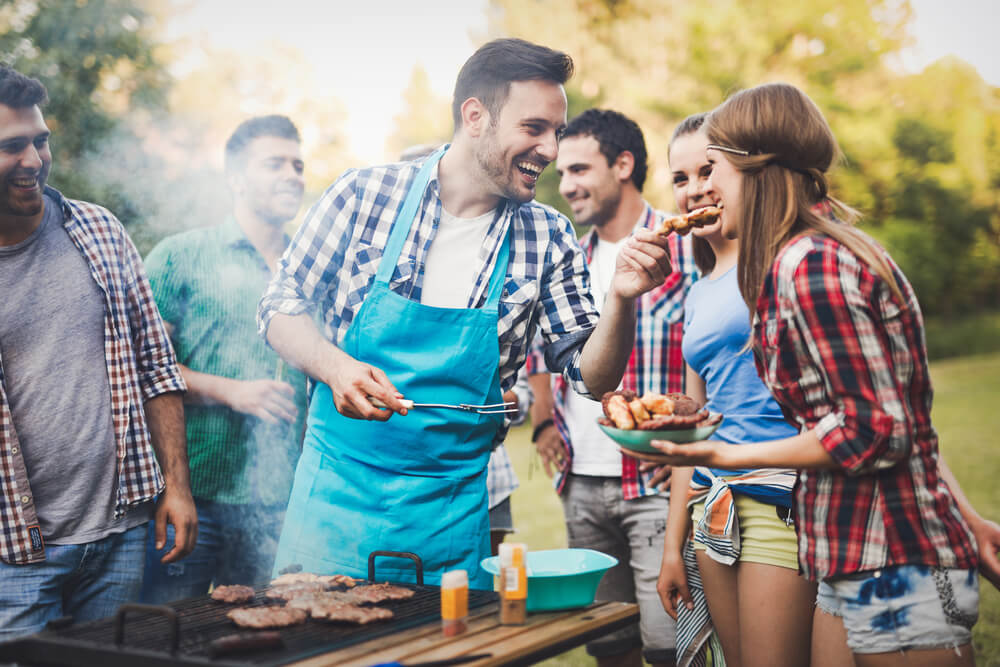 By Maggie Maye
Source: Holidappy
Here you'll find five steps to help you host an awesome indoor or outdoor summer barbecue. After the quick list, you'll find a more in-depth version of the step-by-step instructions.
5 Steps for Successfully Planning a Summer BBQ
Choose a Location & Time: Location options include your house, various outside spaces (like a campground or a park), or a backyard. When choosing a time, weekends usually work best for everyone. Plan to have a four hour window of time so that people don't need to stress about timing.
Invite People: For a small party (like one family or three adults), consider sending texts. For a larger party, consider sending emails or e-vites. Smaller parties are usually more manageable.
Decide What Food & Drinks to Serve: Stick to hamburgers, hotdogs, chicken skewers and veggie skewers for your main course. Soda, wine, and beer should cover the drinks. As for appetizers, some chips and a veggie platter are usually good places to start. Plan on about two or three items of each thing (three drinks, three grilled things, etc) for each person. Cookies or brownies are a really easy dessert option.
Preparing the Food: The meat and veggie skewers should, hopefully, be the only things that need to be cooked.
Consider Any Other Logistics: Such as…
Adjusting for Your Guests: As always, adjust according to your guests. If you have a bunch of vegetarians coming, focus on veggies more. If you have a bunch of red-beef lovers coming, you might consider forgoing the chicken. Got a bunch of children coming? Substitute the beer for juice boxes.
Don't Forget the Utensils: You'll need napkins, paper plates, cups, and cutlery.
Music: Have tunes! You might use a bluetooth speaker or another type of audio setup.
Deciding on the Location and Time
The Where & When:
Decide Where You Want to Have Your Barbecue: Great barbecue parties are easy, whether they are held in the back yard, apartment terrace, or outside spaces where grills are available. You can also bring your own small grill to the park, beach, or lawn of your building or park. A small barbecue on a crowded apartment terrace is just as much fun as a big one in the backyard! Are you worried about rain? No problem! Just grill and have everyone eat inside. It will still be fun, festive, and delicious!
Decide What Day & Time to Have Your Barbecue: The best days and times to have your summer barbecues are Fridays, Saturdays, or Sundays, either late afternoon/evening (5-9), or during the day (12-4). Having a larger block of time this way keeps things feeling casual, and it allows your guests to do what they have to do on the weekends, while still being able to attend your barbecue.
Adjust Accordingly: Adjust the time to match your guests. If it's an adult crowd, then call the party for later times, such as 6-10 p.m. or 2-6. If you are inviting families with children, then make the barbecue earlier; for example, 4-8 p.m. or 11-3.
Whom Should You Invite to Your Barbecue?
Decide whether or not you want a big BBQ or a small one.
A Big Shindig: If you are having a big barbecue, then invite everyone you know, and increase the number of hours of the party so that everyone will have an opportunity to stop by. If you are expecting a lot of people, then plan on accepting guests' offers to bring drinks or simple desserts that require little set up or cleaning on your part. Some good examples that you might encourage people to bring are beer, soda, cookies, or brownies. Avoid having guests bring appetizers or side dishes, as this can get dicey. If a guest wants to bring their grandmother's "famous" German potato salad (heavy on vinegar, eggs, and pickles), or a fruit pie that they "only" have to warm up in your oven for 10 minutes before serving, then politely tell them that you have all of the food handled, but can they please do you a giant favor and bring a six pack, some more ice, or some soda?
A Small Get-Together: Small barbecue parties are just as much fun as big ones and easier to do because you get more time to mingle with your friends. And there is less food to prepare and cook, as well as less clean-up. Also, the cost of the party is less. Many people prefer to have several smaller barbecues over the summer, as opposed to one large one. You can go as small as inviting over one family with kids or three adults. It's still fun either way. Many experienced party hosts come to find that they actually prefer to have these smaller, more manageable barbecues.
Whichever You Chose: RSVP's Are Important!
See Who Is Actually Coming: Make sure that you communicate with your guests to make sure that they are coming! This cannot be overstated when it comes to larger barbecues. Guests may say that they're coming, but then they fail to show up (or they do not respond at all to your initial invitation). It's easier to plan the right amount of food and drink once you know for sure how many guests are coming.
Follow Up—Twice: A little extra work on your part (e.g., a text a couple of hours before the party if it's small or an email to everyone the day before if it's a larger barbecue) helps greatly. When it comes to hosting large barbecue parties, many experienced hosts will send out e-vite or paperless post invitations, and then they will follow up twice to make sure that people respond and are still planning to attend.