BLOGS How to Throw a Fall Dinner Party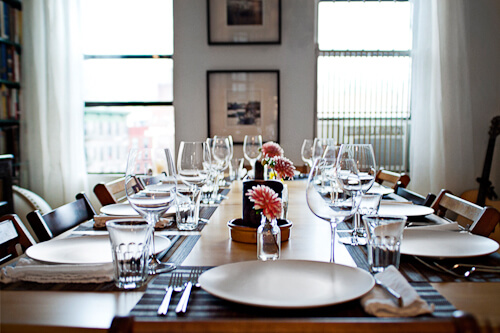 By Anna Watson Carl
Source: Huffington Post
People tell me all the time that they are intimidated to host a dinner party. They're not sure what to cook, worried about their lack of space, and afraid it will be a ton of work — so they end up going out to a restaurant (again). I want to demystify the process as much as possible, because honestly, cooking a meal for friends is one of the most rewarding things in life.
After years working as a personal chef, caterer, and food blogger, I've learned a couple of things about throwing dinner parties. One of the most important tips I can pass along is this: PLAN AHEAD. I don't mean to start planning months in advance or anything, just try and do everything ahead that you can (cleaning, set-up, prep, cooking) so you can relax and enjoy your guests once they arrive.
When I throw dinner parties, I like mixing up the crowd a bit. I love to bring different friends together and watch the worlds collide. As important as the food and the ambiance are, it's the people that make a dinner party. Though I may recall a certain dish the next day (if it was really good), what will linger for weeks and months are stories told, laughter shared, and new friendships formed.
With dinner parties, I'm a list-keeper. First, there's the menu. Then the shopping list. Then there's the to-do list (errands, cleaning, cooking, table, music, etc.), and finally the day of, the cooking prep list. I like to check things off and know where I stand in the process. I actually plan my dinner party menus based on the ability to make things in advance. If I can get the dessert done and the table set the night before, I already feel way ahead of the game. Also, don't be afraid to delegate. Spread the work around-nobody said you have to do everything just because you're hosting.
Another few tips for a stress-free dinner party:
Set the ambiance: light some candles, dim the lights (which helps disguise those areas you didn't have time to dust!), and have a great playlist going when guests arrive. I'm a sucker for jazz-Ella Fitzgerald, Miles Davis, John Coltrane, Diana Krall, and St. Germain are all favorites of mine for dinner parties.
Have drinks and snacks ready when guests arrive. This one is key. As long as everyone has something to sip, and something to nibble on, they are fine hanging out in the living room while I put the finishing touches on the meal. Lucky for me, we have an open kitchen that faces the living room, so I can still be part of the party while I'm cooking. And your hors d'oeuvres don't need to be elaborate — I usually put out some good olives, a couple of cheeses, and crackers. Or a good homemade dip (like white bean hummus) and flatbread. Keep it simple!
I'm a huge fan of one-pot dinners, especially in the fall and winter. Coq au Vin, Boeuf Bourguignon, braised short ribs (basically anything cooked in red wine!), or a big pot of soup can be made in advance and reheated when everyone arrives. And best of all, it can be dished out right from the pot, served with a green salad and some crusty bread to round things out.
Get some cool vintage bottles to use for water on your table. I use old milk bottles and glass carafes (no need for them to match!) and keep them filled with water during a dinner party so I don't have to keep hopping up and down to refill water glasses.
I love flowers, but I'm not a fan of tall arrangements on the table that block conversation. My mom gave me some of my great grandmother's cosmetics bottles and they make beautiful little vases. I'll put a single flower in each and line the table with these mismatched vintage arrangements. And I love to put one in the bathroom as well.
Write your menu somewhere that everyone can see. I've got a chalkboard that hangs in the kitchen that I write the menu on, but sometimes it's fun to have hand-written menu cards at everyone's place.