BLOGS Insider Tips for Throwing the Perfect Summer Party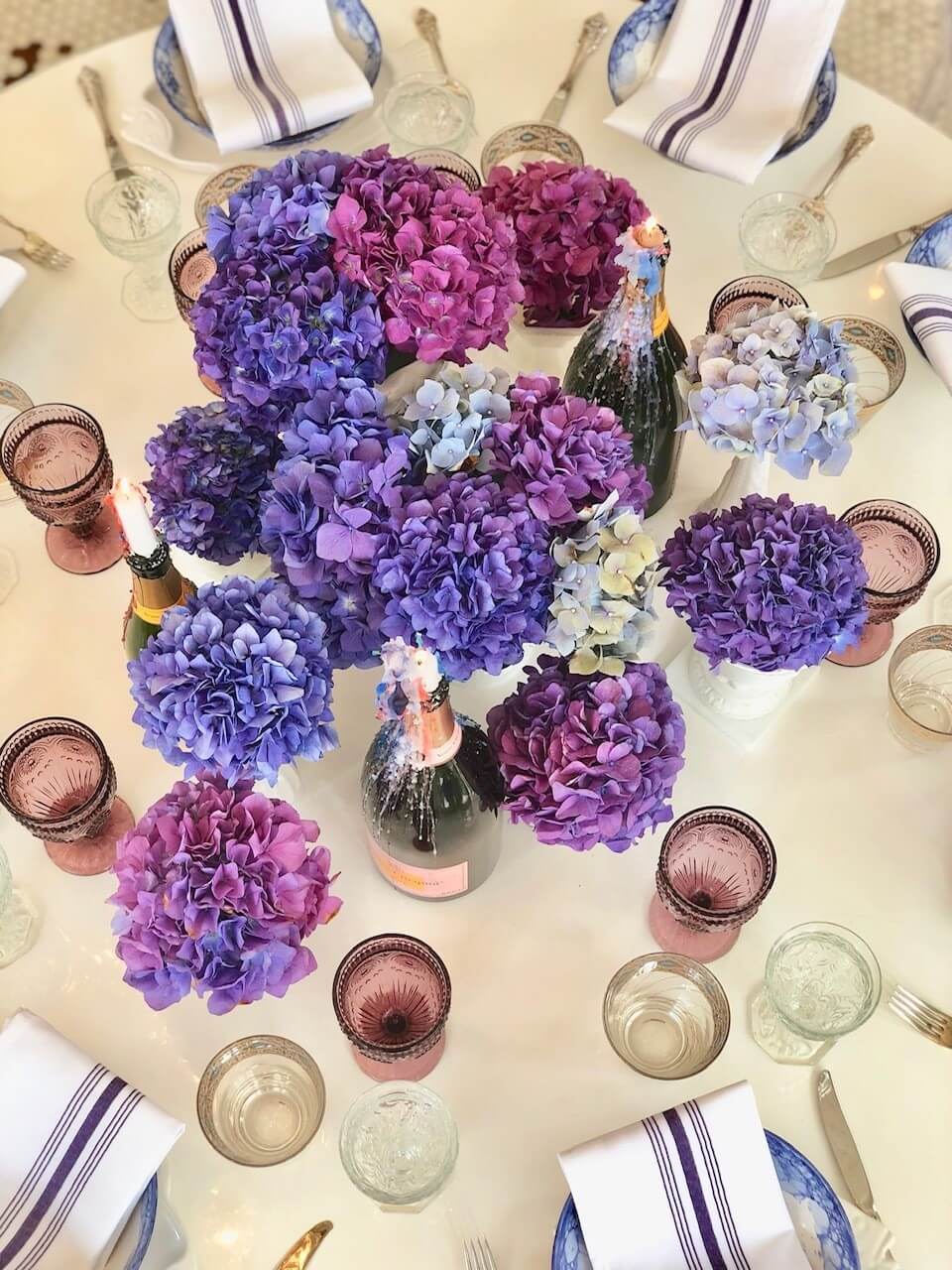 By Alex Hendrickson
Source: Style Blueprint
Sitting down to dinner as the sun dips into the horizon for an evening of flowing conversation and bites of the season's fresh flavors in homemade dishes … that's our idea of a memorable summer night. As the hostess, unwinding and admiring a job well-done evidenced in the smiles across your guests' faces? That's the goal!
The art of effortless entertaining does require some planning ahead, but hosting the ideal fête is not impossible to pull off. From menu planning to décor and every detail in between, these insider tips from some of our favorite Southern entertainers can help you map out your event to ensure you coast into the affair with time to spare.
Styling My Everyday's Katie Jacobs — author, stylist, photographer, graphic designer, foodie and entertainer extraordinaire — offers a party planning checklist, plus advice on planning a summer menu, including tips on what to serve for dessert. Floral designer Mary Pinson shares creative ideas on arranging flowers and centerpieces. And finally, Mary Spotswood Underwood reminds us of ways to make summer entertaining fun, easy and interactive.
Party Planning Timeline
By Katie Jacobs, Styling My Everyday and Author of So Much to Celebrate
One month to two weeks before: 
✓Choose a date
✓Choose a theme (this helps bring your entire event together and guides your menu)
✓Send invitations
Two weeks before:
✓Account for place settings needed
✓Begin planning decorations
✓Plan the menu/start testing recipes (never serve a recipe you haven't tried before)
One week before:
✓Deep clean the house
✓Create a detailed shopping list
Three days before:
✓Arrange the furniture as needed
✓Stow items you don't want to be seen
✓Go to the grocery store (this gives you a little leeway in case you forget anything)
One day before:
✓Set the table
✓Prep all food (marinate the meat, chop all ingredients that won't wilt before tomorrow, and make anything that's acceptable to make ahead of time)
✓Last-minute cleaning
Day-of: Showtime!
✓Get ice
✓Empty the dishwasher so it's ready to load after the party
✓Put up last-minute decorations
✓Change into a party outfit (get ready an hour before the party because there's always someone on your guest list who shows up 15 minutes early)
✓ENJOY!
Menu Planning
By Katie Jacobs, Styling My Everyday and Author of So Much to Celebrate
Plan a summer menu.
"When planning a menu for a summer event, remember to keep it light," advises Katie. "Now's the time to highlight local seasonal fare like tomatoes, corn, peaches and greens. Go to the farmers' market and create a crudité platter around what looks fresh with homemade hummus and pesto from the garden. Serve a salad with grilled fish as your main (remembering no one wants a heavy meal in the heat of the summer), and surprise guests with glasses of champagne served with popsicles for dessert.
Impress guests with dessert.
"Summer is a fun time of year to get creative with dessert. I love elevating seemingly simple classics like ice cream sandwiches, or a fruit cobbler into an elegant dessert to wow guests," shares Katie. "Create homemade ice cream sandwiches with mini blackberry hand-pies, peach cobbler in individual ramekins with pie crust latticework, key lime pie popsicles, or over-the-top milkshakes large enough for a group to share."
The Décor
Tips from Mary Pinson
Use hydrangeas.
"Group together the same flower in mass for a big show," suggests Mary. "And nothing screams summer like hydrangeas. They are readily available and look clean and crisp in collected milk glass containers. I always look for flowers from my yard (or a neighbor's) or from the local grocery store when entertaining. Many times you are entertaining out of town at your lake house or mountain home, and no one wants to be hauling flowers from home."
Mary also suggests skipping the floral foam, which is terrible for the environment and is not biodegradable. Instead, try chicken wire. "I used a small piece of chicken wire (available at any hardware or garden store) and clear floral tape to secure in the container. Filling up containers with water is a must! Of course, [you can put the arrangements together] the night before or the morning of the event. If your event is outside, keep flowers inside until the event."
Use candles.
"Candles are a must for dreamy ambiance. I love the color drip candles (available from Amazon) in collected champagne bottles from special occasions," offers Mary. "It's an instant conversation starter as well!"
RELATED: 3 Summer Spritzers to Enjoy This Season
Think outside the box.
Don't be afraid to think outside the box for floral containers. "I love these Pamp Fizz rosé cans for vases," says Mary. "They are bright and fun and carry a big bonus: you must drink the rosé before you can transform into a vase! They also make the perfect parting gifts for your guests (and they fit right in a cup holder for transport). Look for bunches of the same flower (hydrangeas, sunflowers, roses), and don't be afraid to buy a mixed bunch of flowers and deconstruct them into smaller bouquets."
Create an Experience
Tips from Mary Spotswood Underwood
Plan something interactive.
"I love to create menus that can be done mostly ahead of time but are also interactive for my guests once they arrive," shares Mary. "Guests love being part of an experience, and one of my favorite menus during the summer is a Carolina low-country boil." (Scroll down for her recipe that can be adjusted easily to suit 2 to 200 guests.)
"I make skillet cornbread, cocktail sauce, whole-grain mustard sauce, and the dessert in advance," Mary continues. "I make the boil just until the point before I add the shrimp and reheat the other ingredients before the guests arrive. So, all I have to do are the final steps and the big reveal once they arrive."