BLOGS Professional DJ vs. Friend with a Playlist: What's the Right Choice for Your Wedding?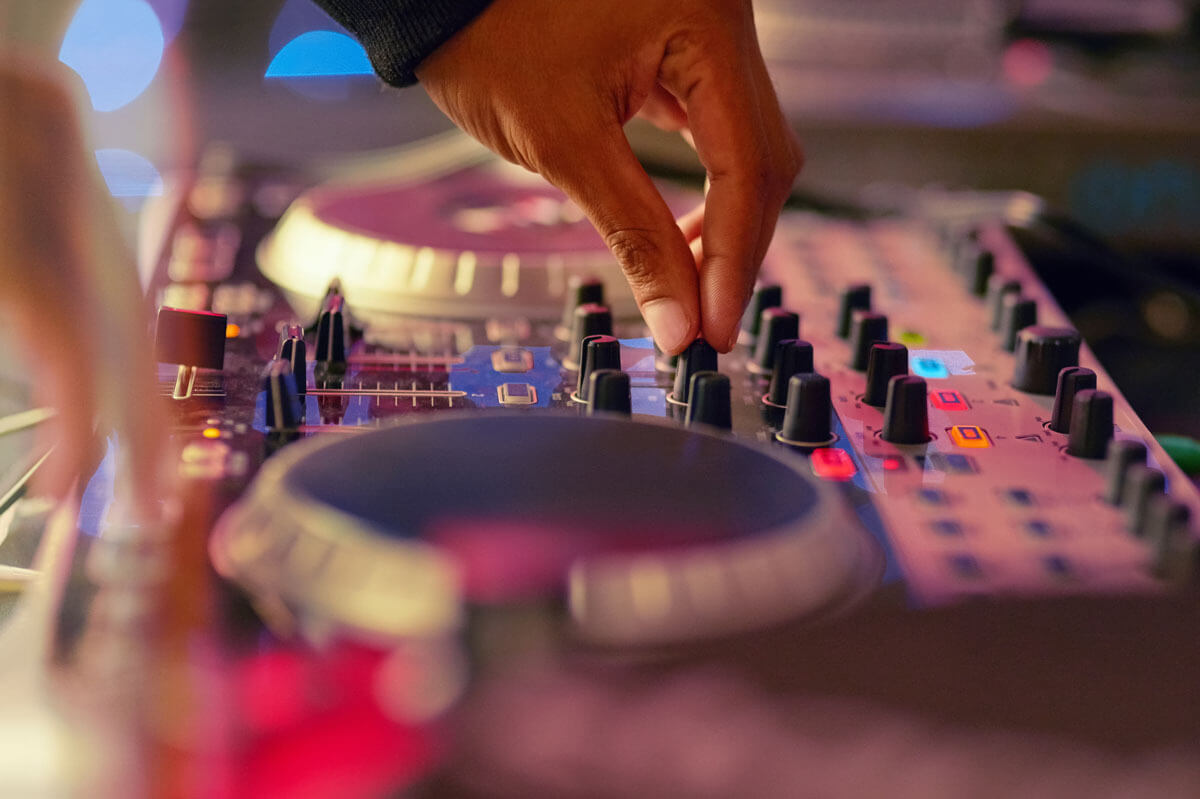 Source: Elegent Event Entertainment
Thanks to the availability of easy-to-use devices and apps for building playlists and mixing songs, nearly anyone can call themselves a DJ. But do you really want just anyone at your event? If you've been wondering if you should hire a wedding DJ or just use Spotify, think twice before you make your move.
Do I need a DJ? Here's 7 arguments for hiring a pro.
A backyard BBQ with a small number of friends may not warrant hiring an experienced DJ and a ton of sound equipment. But for larger gatherings where you want to create a memorable experience, a professional DJ can make a world of difference.
1. A great DJ will also emcee, keeping the party flowing
An experienced DJ also acts as emcee—which is a huge help when you're having a big event. They'll make announcements, get people on the dance floor at the right time, keep tabs on your crowd, and make sure everyone is having a good time. Any lulls will be addressed quickly, and your DJ will keep the party smooth and flowing for the duration.
2. They have an arsenal of great tunes perfect for your crowd
Keeping a large group of people with diverse tastes happy and on the dance floor is a challenge—and it's one professional DJs are experienced in meeting. They'll read your crowd and adjust as needed to make sure everyone is having a great time. Don't risk getting stuck listening to an amateur's personal music favorites or a lackluster lineup.
3. DJs come with solid, working equipment that will sound great
When you book a great DJ, he or she will have a professional sound system with backup equipment to ensure your event goes off without a hitch. With an amateur, you may end up with terrible sound quality or not have sound at all, thanks to cheap, dysfunctional equipment.
4. Hiring a DJ has a comparatively low cost but makes a big impact
Hiring a DJ often amounts to only a small percent of what you'll be spending on your wedding, but the impact is huge, so be sure to make room for this in your wedding budget. The truth is that most guests will never know or care exactly how much you spent on your dress or flowers, but they will definitely remember a great party.
5. They maintain a professional image
It's your DJ's job to professionally represent themselves and the company they work for. You can be assured they'll be dressed appropriately and interact with you and your guests in a kind, professional manner. On the other hand, a Craigslist DJ is likely to be full of surprises—such as totally inappropriate attire, weird tunes, or drinking on the job.
6. They'll set up and break down
You don't want to have to worry about clearing a space for your DJ. Before your event, they will set up all of their equipment in the designated space and make sure all is working. When things wind down, they'll clean up and leave no trace behind.
7. They're dependable and know how to communicate
An amateur may say yes, only to be out of business by the time your event rolls around. A professional DJ has a reputation to uphold and, barring a catastrophic emergency, won't let you down when the big day comes around (and even then, they'd probably find a great colleague to cover your event). A professional DJ will also respond promptly to your emails and calls, working with you before, during, and after the event to ensure your needs are met.