BLOGS Tips for Choosing a Wedding Photographer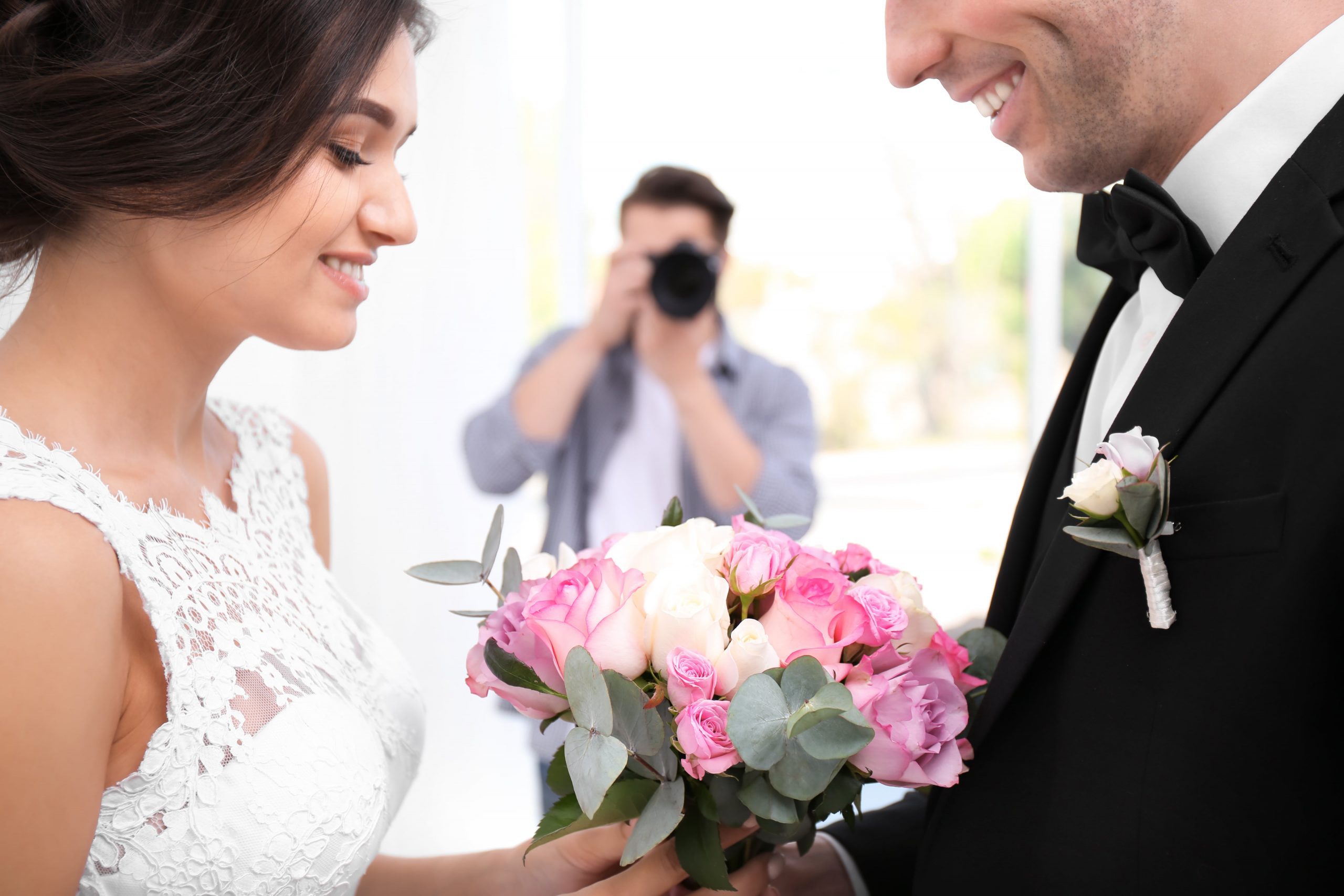 Planning for a wedding is no easy task, especially when you have so many moving parts to take account for. Whether it's remembering to invite everyone you know or coordinating with an event planner, wedding planning can certainly be difficult. Luckily, choosing a wedding photographer doesn't have to be. 
In this blog, we'll take a look at some of the tips and tricks you can utilize to score the best wedding photographer possible.  Here's how!
Check Their Portfolio
Before choosing a wedding photographer, the first thing you'll want to do is check out a prospective hire's portfolio. Here, you should take into account what exactly you want out of a wedding photographer.
Analyze their photo style. Take a look at elements such as angling, lighting, staging. Other elements to be aware of include form, shape, size, color, line, depth, and texture. Understanding these elements and how they can really make your wedding photos pop and stand out can be really useful.
You'll also want to ask yourself: what kind of lighting are they using? Do the photos look professionally taken? Are they using high-quality cameras? It's also good practice to check their background for reviews that highlight a potential hire's strengths and weaknesses.
Understanding Your Wedding's Needs
Are you planning on having a huge wedding or a small one? Does it call for an elaborate photo and stage setup, or are you opting for something simple? Being honest with your wedding needs will help you in choosing a wedding photographer. In fact, depending on the size of your wedding, you may even need a full team of photographers. 
Also, your guests should be in mind when choosing a wedding photographer. As they may want to see the pictures and receive Thank You's afterward, ask yourself how you would like your photos delivered. Would you prefer physical or digital copies? Glossy images or matte? Would you like them framed? And since we live in the social media age — what are the best means of delivering these photos to your guests online? Consider turnaround time as well!
It is also important to make sure you and your photographer are on the same page about time. Having your photographer leave hours before the end of the wedding is a situation absolutely no one wants to be in. Make sure you are in constant communication with your photographer to make sure they'll be able to stay for the majority of the event. Leaving an hour before the end is generally acceptable.
Offer a Trial Run Before Choosing a Wedding Photographer
When choosing a wedding photographer, you'll want to weigh your options. One way you can go about such is by offering a trial run.
Once you settle on a photographer that may fulfill your needs, use this time to offer a trial run. A good time for a trial run would be your engagement photos — as you can test out a photographer's (or studio's) capabilities, see what services they offer, and how their customer service is.
Don't Focus on Price
Lastly, don't focus on price when choosing a wedding photographer. It may seem like an obvious choice to actually focus on price, but good quality photography and service is subjective and cannot be labeled.
If you want to shell out money for a huge photo studio, you still run the risk of receiving phoned-in photographs and/or shoddy service. Furthermore, a cheaper photographer may not be up to par when it comes to your standards — be it through their equipment, experience, or even customer service.
Let quality be the deciding factor in your wedding photography endeavors!
Everlasting Productions' Commitment to a Successful Wedding
A successful wedding is a combination of many factors — and we here at Everlasting Productions want to help you bring your dream ceremony to life! With our experienced DJs and unparalleled service, Everlasting Productions brings the sound and makes sure that your wedding is a night you'll never forget!
To learn more about Everlasting Productions and how we can make your wedding special, please visit our website and book us today!